Important Dates:

79th Annual Floresville Peanut Festival
October 12-14, 2023
---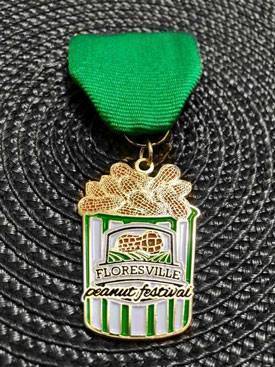 $5 each plus shipping

---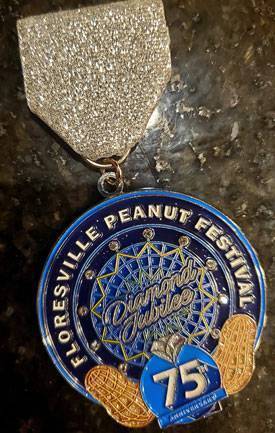 $10 each plus shipping
Welcome to The Annual Floresville Peanut Festival

The Floresville Peanut Festival is celebrated every second full weekend in October with fun, games, royalty, parades, free popular live entertainment, and more! One of the greatest outdoor festivals of its kind, the Floresville Peanut Festival offers FREE parking and FREE admission to the grounds on the Courthouse Square in historic downtown Floresville.

Goober Games kicks off the festivities on Tuesday afternoon at the Floresville Event Center, offering games and activities for the younger crowd. At the Coronation on Thursday, Queen Tunaep is crowned during an elaborate ceremony that also introduces King Reboog and the Royal and Children's Courts. The Royal wardrobe includes gorgeous gowns with long, flowing trains and opulent robes imagined by a local designer and constructed by talented family, friends, and seamstresses.

The Carnival begins the weekend festivities with fun games and thrilling rides on Thursday night through Saturday night. Friday afternoon begins with a Kiddie Parade for the little ones to show off their miniature floats and costumes. That night, assorted vendors, arts and crafts, and sumptuous festival food booths abound. Friday night's entertainment includes a FREE street dance featuring an exciting line-up of popular bands on the Main Stage.

Saturday is a huge day-long celebration, beginning with the Floresville Peanut Festival's Grand Parade at 10:00 a.m. The day is full of fun activities for the whole family, including arts and crafts, commercial vendors, and free music and dance performances on stages around the Courthouse Square. Delicious peanut brittle and roasted peanuts are among the tasty treats available to satisfy all peanut cravings. Food and beverage concessions remain open throughout the day and all night Saturday to meet every appetite for popular festival favorites.

Saturday night entertainment on the Main Stage begins with the final FREE street dance featuring an amazing line-up of popular bands leading up to the grand finale headliner band. The night's final entertainment is sure to end the annual festivities on a high note!

After one visit, the Floresville Peanut Festival is guaranteed to become an annual tradition for the whole family. Make plans now to attend this quintessential small town festival with big time fun, always held on the second full weekend in October. Come Here, Go Nuts!