Parades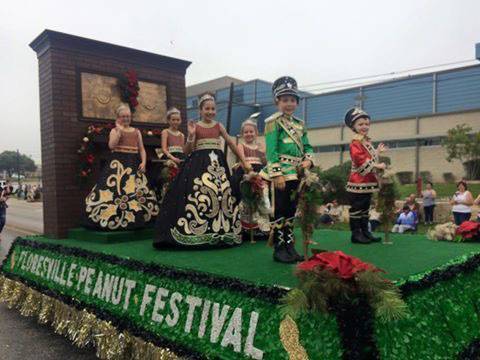 REGISTRATION IS NOW OPEN FOR THE 2023 PARADE. ALL PARADE ENTRY INFORMATION WILL BE EMAILED NO LATER THAN OCTOBER 8TH.
Parade entry deadline is September 30
2023 FLORESVILLE PEANUT FESTIVAL GRAND PARADE
October 14th, 10:00 a.m. in downtown Floresville
For Grand Parade information, please contact us at
[email protected]
•
Click Here To See The 2023 Route
Click Here To Register
Parade Entry Information
Parade Date:
10/14/2023
*The online entry form will only be available from July 1 to September 30th, 2023
Judging:
All entries MUST be in the lineup by 8:30 a.m. to be judged
Kiddie Parade
Friday, October 13, 2023
Registration
5 PM>
Corner of 2nd & C Street
Parade Start Time: 6 PM
Categories
: Floats, wagons,
kids battery powered vehicles, bicycles,
individuals and teams/organization.
Judging will begin at 5:20PM
. All entries
MUST BE lined up
no later than 5:40 PM in order to be considered for judging. Awards will be handed out before the parade begins.
*Sponsorships may include monetary or non-monetary donations of goods and/or services.