Parades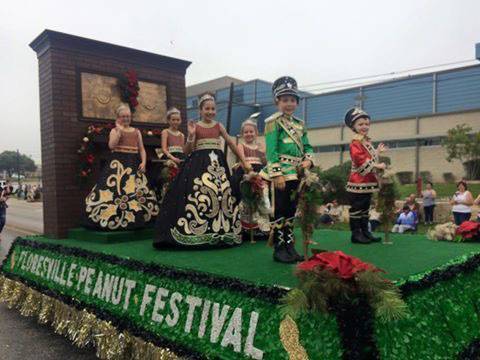 Registration is now closed for the 2022 parade. All parade entry information will be emailed no later than September 30th.
2022 Floresville Peanut Festival Grand Parade
October 8th, 10:00 a.m. in downtown Floresville
For Grand Parade information, please contact us at
[email protected]
•
Click Here To See The 2022 Route
Click Here To Register
Parade Entry Information
Parade Date:
10/08/2022
*The online entry form will only be available from July 1 to September 2022
Judging:
All entries MUST be in the lineup by 8:30 a.m. to be judged  
Kiddie Parade

The annual Kiddie Parade will be held in downtown Floresville Friday, October 7th at 6 P.M.
Registration for the parade will begin at 5 P.M.
The registration table will be set up near the corner of Second and C Streets.
Categories for entries are as follows:
wagons, kid's battery-powered vehicles, bicycles, individuals, teams/organizations, and floats.
Wagons that have been altered in height and/or width will be classified as floats.
No ATV's, golf carts, live animals, or gas powered vehicles allowed.

Kiddie parade lineup will begin at 5:05 P.M.
Judging will begin at 5:30 P.M.
All entries MUST BE lined up no later than 5:40 P.M. in order to be considered for judging.
All judging will be finalized by 5:50 P.M. Entries registered after 5:40 will not be judged.
Awards will be handed out before the parade begins.

2022 Sponsors