Floresville Peanut Festival History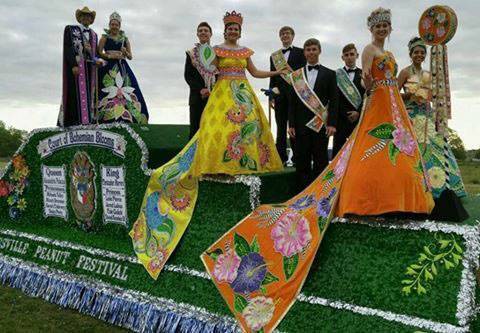 The date was July 29, 1938, when plans for a first festival to celebrate the farming and harvesting of the peanut crop were discussed. The celebration was to be designated as the "Floresville Peanut Pow Wow" to promote the farm commodity and to boast world success of Wilson County's diversified farming program. The hanging of peanut plants across the front of businesses heralded the arrival of the harvesting season.   
By August 5, 1938 the name changed to the "Floresville Peanut Festival" and the occasion was considered the first of its kind in Texas. Governor-elect W. Lee O'Daniel was invited to open the festivities and head the fare with his famous Hill Billy Band.   
The August meeting asked for cooperation of every citizen of the county for the festival and Miss Elizabeth Sheehy, daughter of Mr. and Mrs. Joe T. Sheehy, was selected as the Queen Tunaep I ("peanut" spelled backwards). Mr. Joe T. Sheehy, known as "the Peanut King of Southwest Texas", was Wilson County's pioneer in the peanut industry. He experimented with peanut farming and introduced the Spanish peanut, a viable crop to the farmers of Wilson County. Mr. Sheehy began his peanut business in Sutherland Springs, Texas and later moved it to Floresville in 1916. John Connally, later Governor of Texas, was chosen as the King Reboog I ("goober" spelled backwards.)   
Always held on the second full weekend in October, the Peanut Festival is a grand celebration to recognize the importance of the peanut to the Southwest Texas agriculture. 
To the many sponsors of the Floresville Peanut Festival