Vendor Booths
Food Vendor Booths and Commercial Vendor Booths:

Friday October 13, 2023 - 5:00 pm until midnight
Saturday October 14, 2023 - 9:00 am until midnight 

Download and complete the applicable forms below and forward to the appropriate contact. 


Food Vendor Booths and Commercial Vendor Booths Contact:
Cindy Ritzen
Phone:
903-391-1063
Email

Food and Commercial Vendor Forms:
Food Vendor Booth Application
Commercial Vendor Booth Application
Arts and Crafts Booths Contact:
Janeth Tomlin for info or questions at:
Email
Phone:
210-842-3861
or
830-216-5476 
Arts & Crafts Forms:
Vendor Application for 2023 Peanut Festival Craft Show
Additional Information


Vendor Map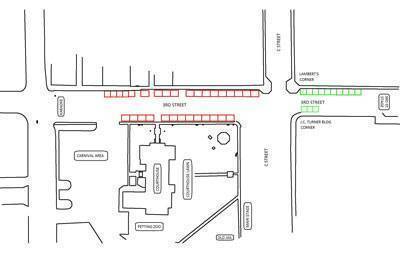 [ Click on image to view larger ]

 
A list of Peanut Festival contacts can be found here.  
*Sponsorships may include monetary or non-monetary donations of goods and/or services.